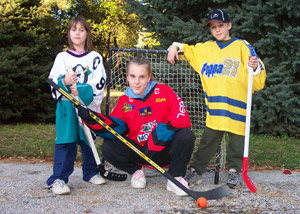 Tablehockey.net is a small family-owned business located in suburban Philadelphia. We have been an official dealer for  Stiga products from Sweden since 1998. We've been hockey lovers for more than 42 years. As kids in the early 70s, we fell in love with the game and watched our team win two Stanley Cup Cups. Many an afternoon was spent skating on the frozen pond down the road or playing "pick up" street hockey games in the driveway. And the battles on the table hockey game in the basement were legendary. Today, we are grown and have kids of our own. And our passion for hockey has been passed down a generation. I guess you could say that hockey is in our blood and it always will be!
We played this game as children and we are passionate about our product. We have sold thousands of games and sleds and provided top notch service & support through out the years to our customers. If you appreciate small family businesses, then we would like an opportunity to serve your table hockey needs. We have been an official Stiga dealer since 1998 and we usually have the lowest prices. When you buy from us you are buying from true hockey fans who are experts on these games. You'll get the kind of customer service and unlimited support that no internet superstore could ever provide. If you ever have any questions, we are just a phone call away. The company owners handle the customer service issues personally. Please read our testimonials and you will see why we are "America's # 1 Table Hockey Retailer."
One Christmas in the early 70s, a table hockey game from the Sears catalog appeared underneath the Christmas tree. It was a magical moment and a love affair with the sport of hockey was born. Today, more than 42 years later, that passion is as strong as ever as we help people connect back with that wonderful toy from childhood and introduce it to a new generation.
Ha kul.